About Dr. Saeed Akhtar
I did my MBBS, MS (General Surgery) and MCh (CTVS) from the prestigious King George's Medical College (Now named as CSMU), Lucknow. Thereafter, I joined Escorts Heart Institute and Research Centre, New Delhi where I worked for about four and half years. During this period, I have been actively involved in all surgical and academic activities of the institute. I participated in more than 3500 open-heart surgeries as first or second assistant and performed more than 1500 open-heart surgeries independently at Escorts. This includes almost all types of adult cardiac surgeries e.g. CABG, valve surgery, repair of congenital defects and aortic root surgery. I have full exposure of pre and postoperative management of cardiac patients.
I have worked as Fellow Cardiac Surgeon in UPPSALA UNIVERSITY HOSPITAL, SWEDEN where I was actively involved in all surgeries and done few open-heart surgeries independently.
I have worked as Chief Cardiothoracic Surgeon at Malhotra Heart Institute, New Delhi for a period of three years (from April 1996 to March 1999) where I was involved with the establishment of the Cardiac Surgery Unit and starting the surgical program. I performed about 250 surgeries there.
I have also performed more than 2500 off-pump bypass surgeries (OPCAB). I have the distinction of doing first Off-Pump CABG in the state of Uttar Pradesh.
My main areas of interest are: CABG (OPCAB), Total Arterial Bypass, Bloodless Surgery, Valve Surgeries and other Adult Cardiac Operations.
Being a part of Trauma Unit, I am doing a lot of Thoracic Surgeries and Limb – salvage vascular surgeries which are quite commonly seen in the city of Kanpur.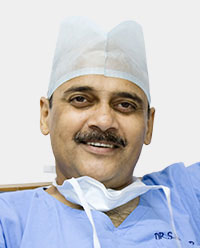 Dr. Saeed Akhtar
Chief Cardiac Surgeon
Current Position
Currently, I am working as Chief Cardiothoracic and Vascular Surgeon at Regency Hospital Ltd, Kanpur, since April 1999. Till now I have performed more than 6000 cardiac surgeries.